'A Star Among Us': Nashville chef Star Maye shares pot pie recipe, new book details
Mackensy Lunsford
Southern Kitchen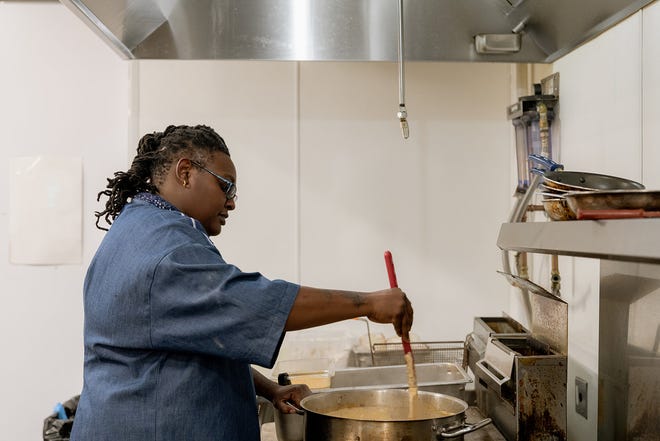 When Star Maye was growing up in Alabama, the cooks were always the center of attention.
"I was like, I want to be everyone's favorite," said the Nashville-based Anzie Blue executive chef and co-owner. "I started making food as a little kid and then it just kind of grew into adulthood."
Maye doesn't need help getting noticed. Gregarious and a self-described jack-of-all-trades, she's just as handy in the kitchen as she is with a miter saw. She's honed her cooking skills in Alaskan fish camps and cooked on oil rigs in the Gulf.
"Whatever weird job I could find I would do it," she said. "And I picked up things in those arenas that I know a lot of chefs don't get to pick up until much later in their careers."
Maye plays drums, builds furniture, and has recently published "A Star Among Us: A Chef's Story." The book highlights her 20-year history as a female, Black LGBTQ+ chef. It's also a look at her favorite recipes, including a pot pie recipe that's just about as easy as they come. 
Among chef Maye's talents is a proclivity for teaching cooking in a way that builds confidence. 
"There are cooks that don't try, but there are not bad cooks," she said. "If you can boil water and you can set a timer, you can boil an egg, and you know what that is? Cooking."
Maye, 42, found her own confidence in the kitchen at her grandmother's side at an early age, making pot pie when she was as young as 5 years old. But what she found when she entered the professional cooking world in her early 20s was a much less hospitable environment. 
"Being a woman in a male-dominated job is difficult anyway," she said. "Most things you say fall on deaf ears. They don't really care what you say, and you feel like you're just here to do a job and only that."
Learn how:A Cherokee chef turned to tradition for this stuffed squash recipe
But in 20 years, Maye has seen a veritable sea change in the restaurant industry, though some barriers remain for minority cooks. Maye, who said she never had a Black female executive chef to look up to as she was coming up in the industry, now has the chops to dole out advice to aspiring chefs.
"Seize every opportunity," she said.
Maye thinks her dependability, knowledge, efficiency and all-around kitchen know-how helped catapult her to success. In her first cooking job, she was stuck peeling potatoes eight hours a day. So she learned to peel faster.
"I'd peel for four hours and work on the line for four hours," she said. 
It's all about creating opportunities, she added. That's not just a lesson for chefs, but for anyone that wants to be successful.
More cooking tutorials:How to make hummus like the pros
"I tell people all the time that you don't become a millionaire sleeping eight hours a day," she said. 
For Maye, success looks like opening more Anzie Blue locations, which is more than a restaurant, she said.
"I'm trying to build a community around really good food," she said. "I feel like if you make food with love and give it a purpose and be intentional with what you're trying to do, they will come. That mentality is working out for us."
Chef Star Maye's book can be purchased on Anzie Blue's website (www.anzieblue.com) for $60. "A Star Among Us: A Chef's Story" is available for shipping or pick-up at Anzie Blue. A portion of the proceeds will go directly to supporting The Trevor Project, 24/7 crisis support services for young LGBTQ+ people. 
Anzie Blue is at 2111 Belcourt Avenue, Suite 101, in Nashville. More at www.anzieblue.com.
Star Maye's chicken pot pie
Maye learned to make a version of this pot pie recipe with her grandmother, who died in 2021. This was the last dish they made together. 
"It's very near and dear to my heart and it's easy to make," Maye said. "I tell people, for me, it's like a family recipe. We all get in and somebody's cutting the chicken, somebody's getting the vegetables together, somebody's making the biscuit top, somebody's making the roux."
To that end, this recipe, reprinted from Maye's "A Star Among Us: A Chef's Story," brings people together both in the kitchen and at the table. It substitutes pie crust for the biscuit top for ease, but the result is still a comfortable dish that begs to be shared. 
"Food brings people together," she said. "That's what it is."
Ingredients
2 Pillsbury pie crusts
1 pound chicken breast, cubed
1/2 cup butter 
1/4 cup all-purpose flour
1/4 cup heavy cream
1 quart chicken stock
3 cups mixed vegetable mix
1 teaspoon garlic powder
1/2 teaspoon onion powder
Dash of salt and pepper
Instructions
Heat oven to 425°and prepare pie crusts according to box directions. In a large pot, boil chicken breasts with salt and pepper. Strain chicken, but keep the stock. Shred chicken.
In a large saucepan, melt butter and slowly add flour until it is a uniform and smooth consistency. Add chicken stock to the pot and return to a boil. Mix in seasonings.
Once boiling, add heavy whipping cream, vegetable mix, and shredded chicken. Stir. Stir for a few more minutes with all the ingredients. Remove from heat.
Line the pie pan with one crust and add filling. Add the top crust and mold the two crusts together on the corners. Cook for 30-40 minutes or until the crust is golden brown.
To protect the crust from burning, cover it in foil for the last 15 minutes of baking. Remove from the oven. Let it cool for 5 minutes. Serve.
Mackensy Lunsford is the food and culture storyteller for USA TODAY Network's South region and the editor of Southern Kitchen.
Sign up for my newsletter here.
Reach me: mlunsford@southernkitchen.com