How to throw an outdoor Thanksgiving: The table
Don't fret too much about setting the perfect Thanksgiving table. By making clever choices about your dinnerware and truly letting your food shine, the perfect table is easy to achive.

We've already talked in extensive detail about the food menu for turkey day, but for many of us, the table setting is just as important to get right. When you're dining outside, the rules are a little different than a typical Southern indoor dinner party. You'll want to keep the fancy China inside and make sure to set up your table at a safe distance from the turkey fryer and bocce ball. 

Here are five tips to make your outdoor Thanksgiving table the best it can be. And scroll down to the bottom for a dish-by-dish list of all of our serveware if you need a bit more inspiration.

Figure out how many tables you'll actually need
For our outdoor Thanksgiving, we needed a large farmhouse-style table for the actual meal, plus a medium-sized sides and dessert table, and a few smaller tables for holding cheese boards and appetizer plates. We like to spread out the food a bit to encourage our guests to mingle and so that no one table gets too loaded down with serving bowls. And while we love the aesthetic of our farm table, you can easily make do with several card tables covered with easy-to-clean, casual linens.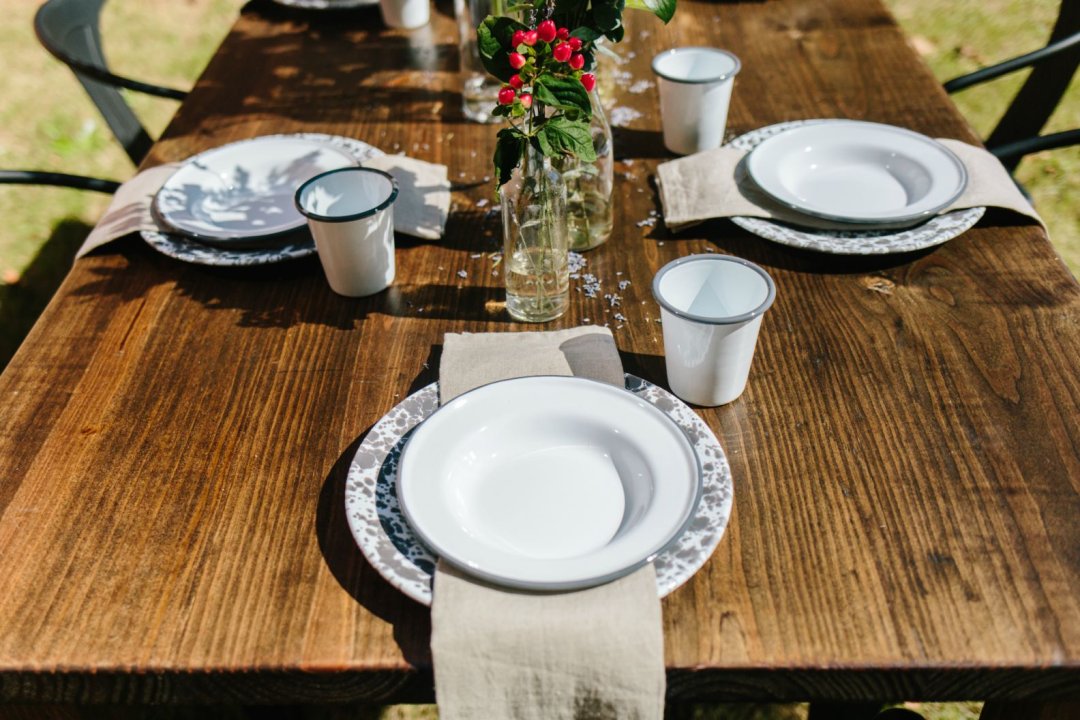 Pick outdoor-friendly dinnerware
We're huge fans of the classic enamelware from Crow Canyon, and we made use of it throughout our outdoor Thanksgiving. Pick out complementary shades and throw in a few colorful pieces for a splash of fun. Enamelware is shatterproof, lightweight and easy to clean — perfect for outdoor entertaining all year round. You can also purchase well-designed yet fairly heavy-duty plastic plates and cups to use on your table if you'd prefer a more disposable option.

And don't go too crazy with too many plates and bowls. Remember, you're outdoors and keeping things casual. One salad/bread plate, one large dinner plate, a water cup and a wine glass or Mason jar for beer should do you just fine. Dessert plates, set on the side table, can double as appetizer plates as well.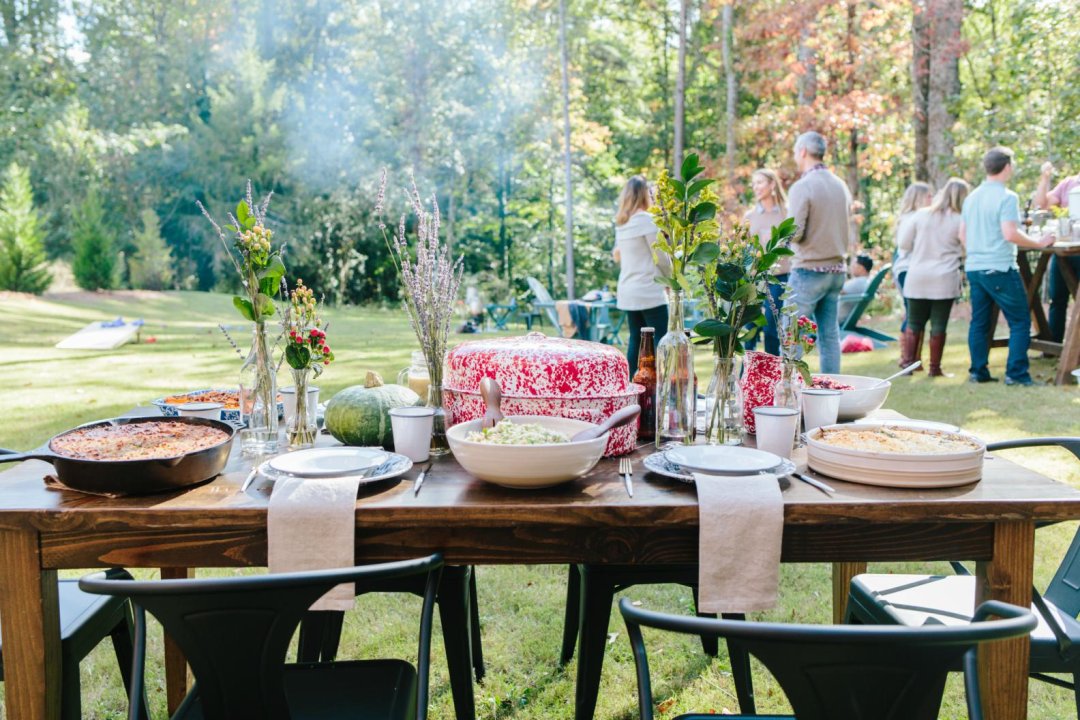 Complement your plates and cups with large serving bowls and platters
We threw in a mix of enamelware and more traditional serving dishes at our Thanksgiving. Large, minimalist serving bowls from Stoneware & Co. match perfectly with the colorful Crow Canyon bakers and roasters. We also served our cheese appetizers directly from a large cutting board.

Plan out your serveware in advance by setting the table the morning (or even the day) before dinner. Create labels with Post-It Notes for each of your planned dishes and assign each serving bowl you'd like to use with lable. Place a serving spoon or fork in each bowl so it'll all be ready to go once dinner is hot. Remember that some dishes, like dressing and any casserole, can be served directly in its cooking vessel. Pick out your prettiest cast iron and baking dishes and enlist them for double-duty. Your dishwasher will thank you later.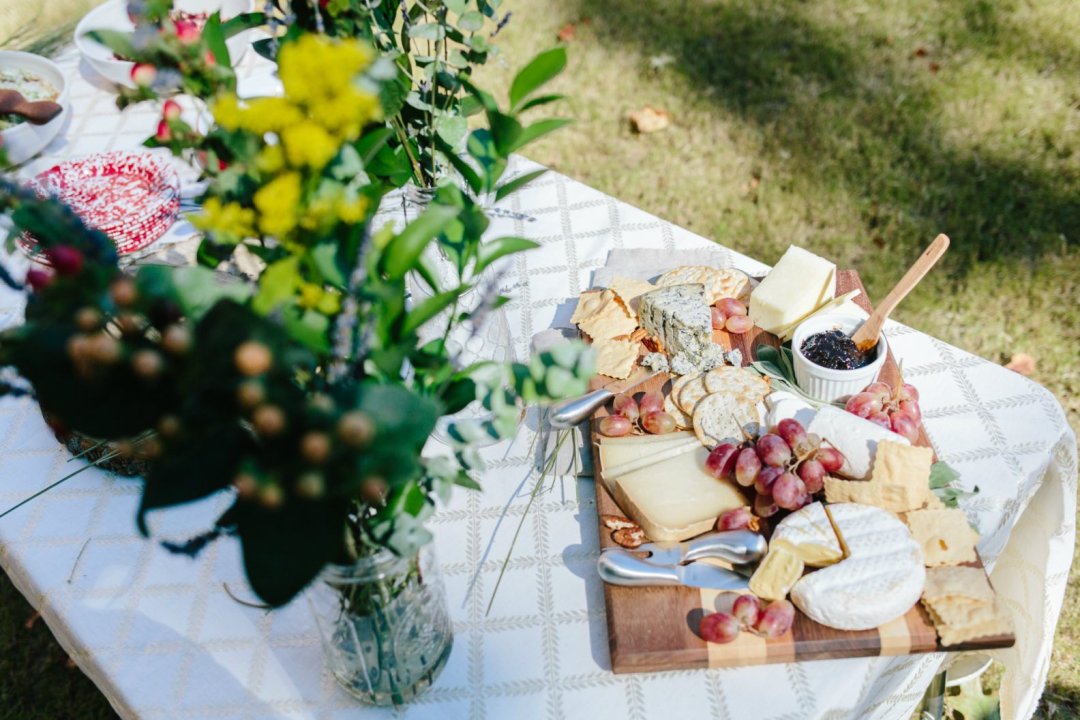 Make food your centerpiece
There's no need to craft an elaborate centerpiece for your table — let your food do the work. Place the golden, crisp fried turkey front and center on the table. We served ours out of a large red splatter-painted roaster from Crow Canyon. (It works great as a serving vessel even if you don't use it to actually cook the bird!) Build flower arrangements in smaller vases around the turkey. Wild, native flowers fit with the casual aesthetic of the day; no need to splurge for dozens of roses. Fill out the table with as many side dishes as you can fit, and put the rest on the side and dessert table.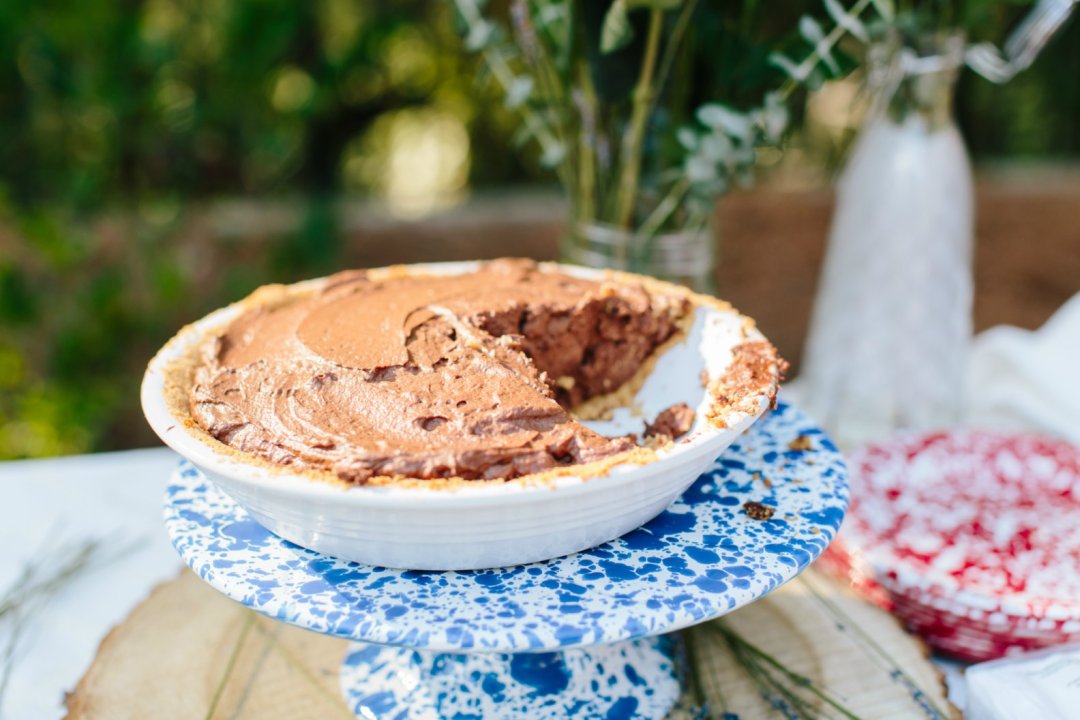 Cake stands are your friend
Speaking of the side and dessert table, think multiple levels. Make use of multiple cake stands to add interest to the spread. You can place serving bowls and pie plates on the stands — there's no need to use them for actual, well, cakes. Add a vase of tall flowers to add another level to the table.

That's it! Once you're confident with your table set-up, get back in the kitchen and finish baking your pies.

Get your drinks table ready for a party and learn how to win at lawn games.
Plan your menu today.
---
Thank you to The Magnolias and Atlanta Fine Homes | Sotheby's International Realty for providing the space for our outdoor Thanksgiving. ​​