Shrimp Po'Boy with Zapp's potato chips and Abita beer — a perfect New Orleans meal
The Ultimate Guide to the Big Easy
We're not going to lie, we love New Orleans. As the birthplace of the beloved po'boy and Creole cuisine, the historical city has a distinct food and dining scene unlike any other city in the South. The cultural impact from the French, Spanish, enslaved Africans and Southerners are ingrained in the city and still heavily influence it today. We can't think of a better place to enjoy Cajun and Creole cuisine than in the Crescent City. 

We're not the only ones who are in love with New Orleans. Over the summer, New Orleans made Food & Wine's Best Food Cities in the World list, and last month it was chosen by Travel and Leisure as America's Favorite Food City. New Orleans was also ranked number two on Travel and Leisure's list of America's Favorite Cities.
Those who are lucky enough to visit New Orleans are visiting at a special time in the food industry. Not only can you dine at a restaurant that is almost two centuries old, like Antoine's or Arnaud's, but you can also explore the city's booming food truck scene. 
"There was a lot of new energy in New Orleans that was a departure from the things I've experienced there before," said Jordana Rothman, restaurant editor for Food & Wine, in a story from The Times-Picayune. "New Orleans has always been an amazing food city, and it's exciting to see these young, idiosyncratic talents that are stepping up to the plate." 
Both Creole and Cajun food can be found in restaurants across the New Orleans. Southern Kitchen chef Jeffrey Gardner explained: "If you had to boil it down to a one-sentence description, Creole cuisine is the food of the city and Cajun cuisine is the more rustic food of the country. As a port city, New Orleans became a melting pot of culinary influence from Italian, Spanish, African, Caribbean, French, German and Native American cuisines. Exotic ingredients and more complex recipes are a hallmark of Creole food, as is the use of tomatoes. Derived from the Acadians displaced from northeastern Canada during the Great Upheaval, Cajun cuisine takes more from the bounties of the swamps, levees, basins and rivers of Louisiana. More focus is given to meat and game, especially through dishes like boudin and tasso. Additionally, the use of spices are most commonly found in Cajun cuisine."
If you can't make it to New Orleans, but are craving crawfish etouffeé or a shrimp po'boy, there are a few purveyors that will deliver delicious Louisiana staples to your door. Louisiana Crawfish Company ships live mudbugs anywhere in the U.S. "The selection of specialty foods offered by Louisiana Crawfish Company is perhaps the most extensive of any site we found," Gardner explained. "Fresh Gulf seafood, spices, prepared gumbos and even king cake are all available for purchase." If you need to feed a very large group of people, the Fowl de Cochon, a turducken and cornbread dressing stuffed inside of a 50-pound boneless suckling pig, from Cajun Specialty Meats, will do the job. And for spicy Creole sausage or smoke Cajun meat, Gardner recommends Poche's Market and Smokehouse in Breaux Bridge, Louisiana. 
The cocktails of New Orleans
As the birthplace of some of the South's best cocktails, New Orleans takes its bars and drinking seriously. According to our cocktail columnist and Southern restaurateur Jerry Slater: "The sazerac's origins have been attributed to apothecary owner and bitters creator Antoine Peychaud as well as to the Sazerac Bar. Its ingredients and the stories that surround its creation are closely tied to New Orleans and its people, as well as to the French Quarter specifically. In 2008, the sazerac was declared the official cocktail of the Crescent City." 
The Vieux Carré is another New Orleans creation that came from Walter Bergeron of the Hotel Monteleone in the 1930s. "It's [kind of] a negroni, a Manhattan, a sazerac and an old fashioned, [but really] somewhere within this vector lies this cocktail," Slater said. 
If you're a fan of Old Fashioneds, Manhattans or any cocktail that includes bitters, it's time to add El Guapo Bitters to your bar cart. Created by Scot Mattox in New Orleans, El Guapo Bitters was developed to infuse Southern flavors into cocktails. Mattox believes cocktails aren't truly complete without bitters. "When you think of food, if you don't put salt and pepper or other seasonings, it tastes flat — one-dimensional," he said. "That's the function bitters serve in a cocktail."
El Guapo is dedicated to creating bitters that accentuate and boost Southern flavors using locally-sourced ingredients. Writer Chris Watkins explained: "This affinity for locality is evident in the laser-focused offerings, which are unmistakably New Orleanian, but also have vast appeal. It shows in standouts like the aromatic Chicory-Pecan bitters, which is made from Louisiana pecans, roasted chicory and coffee, and is a delicious way to amp up an Old Fashioned or tiki cocktail. There are also bitters in Gumbo and Crawfish Boil flavors, both inspired by one of Mattox's favorite seafood stops in Gretna, Louisiana."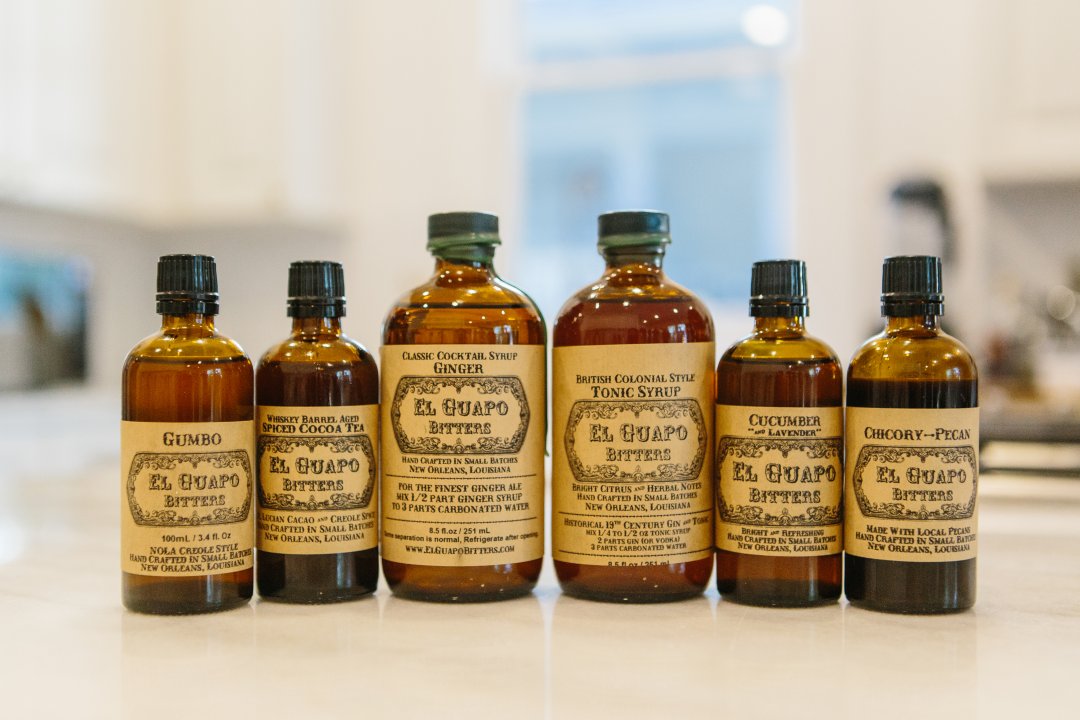 The fleur de lis is the official state symbol of Louisiana and can be found throughout New Orleans and across the Shoppe at Southern Kitchen on rocks glasses, stemware and a beautiful tea pot. The Mignon Faget HOME Collection feature the fleur-de-lis, as well as crawfish, on stemless wine and rocks glasses.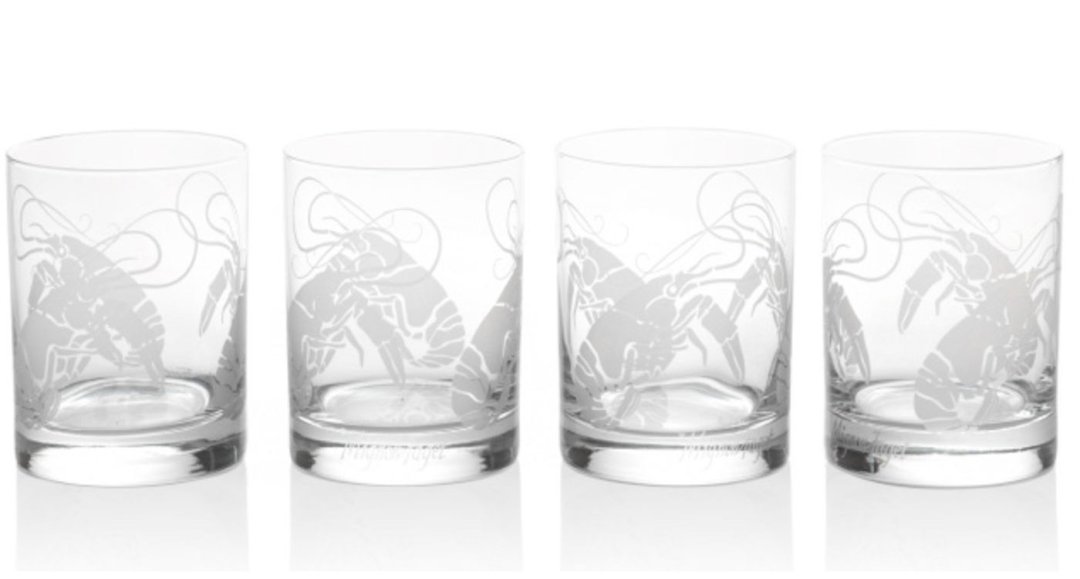 Our favorite New Orleans recipes
Shrimp and Crawfish Etouffee
Serves: 8
Hands On Time: 2 hours and 0 minutes
Total Time: 2 hours and 0 minutes
Ingredients
1/4 cup canola oil
3/4 cup all purpose flour
4 cups shrimp shells and/or heads
1 small onion, chopped
1 small carrot, diced
1 stalk celery, diced
1 small red bell pepper, diced
6 cloves garlic, smashed
1 small jalapeño, finely chopped
2 tablespoons paprika
1 teaspoon dried thyme
1 bay leaf
Pinch cayenne pepper
Salt and freshly ground black pepper
2 tablespoons tomato paste
4 cups clam juice
1 1/2 cups tomato juice
Juice of 1 lemon
2 tablespoons gumbo file powder
2 pounds small shrimp, peeled and deveined
1 pound crawfish tails
Cooked white rice, for serving
Chopped scallions, for garnish
Instructions
Heat a heavy-bottomed stock pot over medium-high heat. Add the oil, then whisk in the flour. Cook, stirring constantly, to develop a roux that is browned and nutty, but not black. It should almost resemble the color of peanut butter.
Add the shrimp shells, onion, carrot, celery, bell pepper, garlic, jalapeño, paprika, thyme, bay leaf, cayenne and 1 teaspoon black pepper. Cook, stirring occasionally, until the shrimp shells turn pink and the vegetables have softened.
Add the tomato paste, and continue to cook, stirring constantly, until it has turned slightly rust-colored. Stir in the clam and tomato and bring to a boil. Reduce the heat to low and simmer for 20 to 30 minutes. Remove from the heat and stir in the lemon juice and gumbo file powder.
Transfer the mixture to a blender (or use an immersion blender) and puree until slightly thickened. Pour through a mesh strainer or fine colander into a large saucepan to remove any lasting particles of shrimp shells.
Return the strained sauce to medium heat and add the shrimp and crawfish. Poach until just cooked through, about 3 minutes. Remove from the heat and season to taste with salt and pepper. Serve over white rice, garnished with scallions.
---
Shrimp Po'Boys with Quick Remoulade

Serves: 4
Hands On Time: 30 minutes
Total Time: 45 minutes

Ingredients
Remoulade
1 1/2 cup mayonnaise
1/2 cup Creole mustard
Juice of 2 lemons
3 tablespoons Sriracha sauce
3 tablespoons capers, chopped
3 tablespoons sweet pickle relish
Kosher salt and freshly ground black pepper
Po'Boys
Vegetable oil, for frying
1 1/2 pounds medium shrimp, peeled and deveined
2 cups half and half
1 1/2 cups all-purpose flour
1 1/2 cups yellow cornmeal
2 tablespoons kosher salt
1 1/2 tablespoons Old Bay Seasoning
2 teaspoons freshly ground black pepper
1 large head romaine lettuce, shredded
2 large beefsteak tomatoes, sliced
4 (6-inch) soft, crusty French rolls or 1 baguette, cut into fourths, halved, buttered and toasted

Instructions
To make the remoulade: In a small bowl, whisk together the mayonnaise, mustard, lemon juice, Sriracha, capers and relish. Taste the aioli and season with the salt and pepper.
To make the po'boys: In a large, heavy-bottomed pot, begin heating 2 inches of vegetable oil to 350 degrees over medium-high heat. Alternatively, heat the vegetable oil to 350 degrees in a deep fryer following the manufacturer's directions. Line a large plate with paper towels.
While the oil is heating, combine the shrimp and half and half in a large bowl. In a second large bowl, whisk together the flour, cornmeal, salt, Old Bay and pepper.
Remove the shrimp from the half and half, shaking off excess, and place in the bowl with the flour mixture. Toss to coat thoroughly.
When the oil is hot, remove one third of the shrimp from the flour mixture, shaking off any excess, and carefully to the hot oil. Fry until the shrimp are crisp and cooked through, about 3 minutes. Using a wire strainer or slotted spoon, remove the shrimp from the oil and transfer to the prepared plate. Repeat with the remaining shrimp in two more batches.
To assemble the po'boys, split the rolls in half and spread both sides with the remoulade. Add lettuce and tomato to one half of the bread, then top with the shrimp. Serve hot.
---
Serves: 8
Hands On Time: 1 hour and 55 minutes
Total Time: 2 hours and 40 minutes

Ingredients
3/4 cup vegetable oil
1 cup all-purpose flour
1 yellow onion, finely diced
3 ribs celery, finely diced
1 poblano pepper, seeded and finely diced
1 red bell pepper, seeded and finely diced
6 cloves garlic, minced
1 tablespoon paprika
2 teaspoons cayenne pepper
3 bay leaves and 3 sprigs fresh thyme, tied together with kitchen twine
1 pound okra, cut into 1/2-inch rounds
1 (15-ounce) can diced tomatoes in juice
8 cups seafood stock (see note)
Kosher salt and freshly ground black pepper
Hot sauce
1 pound medium (41/50) shrimp, peeled and deveined
1 pound catfish fillets, cut into 1-inch pieces
1 pound claw crabmeat
1 pint shucked oysters with their liquor
1 tablespoon Worcestershire sauce
1 tablespoon gumbo file powder (optional)
Cooked white rice, for serving
Sliced scallions, for serving

Instructions
In a large Dutch oven or other heavy-bottomed pot, heat the oil over medium heat until hot. Stir in the flour to make a roux. Cook, stirring constantly with a wooden spoon until very dark, but not burned, 20 to 30 minutes. 
Add the onions, celery and peppers, and cook until the vegetables are softened, 6 to 8 minutes. Add the garlic, paprika, cayenne, bay leaves and thyme, and cook until aromatic, about 1 minute.
Add the okra and tomatoes and cook until the okra begins to soften, about 5 minutes. Stir in the seafood stock, bring to a simmer, and cook, skimming off any oil that comes to the surface, until the flavors have melded and the sauce has darkened and slightly thickened, about 45 minutes. 
Add the shrimp, catfish, crab meat, oysters, Worcestershire sauce and file powder, if using, and simmer until the catfish has cooked through, about 5 minutes. Season to taste with salt, pepper and hot sauce. Serve in bowls over white rice, garnished with scallions.
---
Chef's Pick: One-Pot Chicken and Sausage Jambalaya

Serves: 6
Hands On Time: 1 hour and 15 minutes
Total Time: 1 hour and 15 minutes

Ingredients
1 tablespoon vegetable oil
1 pound smoked andouille sausage, quartered lengthwise and sliced 1/4 inch thick
1 1/4 pounds boneless skinless chicken thighs
1 yellow onion, diced
8 ounces tasso ham, cut into 1/2-inch cubes
3 tablespoons minced garlic
1 tablespoon chopped fresh thyme
3 bay leaves
1 teaspoon freshly ground black pepper
1 teaspoon red pepper flakes
2 cups long-grain white rice
4 cups chicken broth
Kosher salt
5 scallions, thinly sliced
Hot sauce, for serving

Instructions
Heat a large Dutch oven over medium-high heat. Add oil and sausage and cook, stirring occasionally, until very well browned, about 10 minutes. Add the chicken thighs and continue to cook, stirring frequently, until the chicken is browned and cooked through, about 10 minutes. Add the onion and cook, stirring frequently, until soft and translucent, about 8 minutes. 
Add the ham, garlic, thyme, bay leaves, black pepper and red pepper flakes and cook until fragrant, about 2 minutes. Add the white rice and stir to coat the grains with the rendered pork fat and spices. Continue to cook, stirring constantly, until the rice is translucent, then add the chicken broth. 
Bring the broth to a simmer while stirring constantly to prevent any rice from sticking to the bottom of the pot. Once the liquid begins to simmer, reduce the heat to low, cover, and cook until the rice is tender, about 25 minutes. Remove from the heat and stir to fluff the rice. Remove the bay leaves and season to taste with salt. Garnish with the scallions and serve.
---
Chef's Pick: Bananas Foster

Serves: 2
Hands On Time: 15 minutes
Total Time: 15 minutes

Ingredients
4 tablespoons unsalted butter
1/2 cup dark brown sugar, packed
1/2 teaspoon ground nutmeg
1/2 teaspoon kosher salt
4 ripe bananas, peeled and halved
1/2 cup dark rum
Zest of 1 orange
Vanilla ice cream, for serving

Instructions
In a large skillet, melt the butter over medium-low heat. Add the brown sugar, nutmeg and salt, and cook, stirring constantly, until the sugar is completely dissolved, about 3 minutes.
Add the bananas to the pan and cook, flipping once, until both sides have softened and browned, about 3 minutes. 
Turn off the heat and add the rum. Carefully turn the pan away from you and ignite the rum with a long match or kitchen lighter. Return the skillet to medium-low heat and cook, shaking constantly, until the flames have died off. Turn off the heat and the add orange zest. Transfer to a serving platter and serve with vanilla ice cream.
---
Visit the Shoppe at Southern Kitchen for holiday gifts and more
Photo credit for Shrimp Po'Boys with Quick Remoulade: Maura Friedman
Photo credit for Seafood Gumbo: Ramona King
Photo credit for One-Pot Chicken and Sausage Jambalaya: Maura Friedman
Photo credit for Bananas Foster: IdeaBar Austin