Smithey Cast Iron: Bringing back classic handmade cookware in Charleston, one cast iron skillet at a time
Smithey Ironware is a high-end brand of cast iron cookware — a throwback to a time when skillets weren't mass-produced by machines and were given more attention to detail. The successful small business enterprise, run by a North Carolina native and admitted outdoorsman who hand-crafts the forged skillets himself in Charleston, South Carolina, is a testament to respecting and renewing the old-school idea of creating a top-quality product that stands apart in an bustling market.


There's a reason people like the classics. Not only do they represent times we've moved beyond, for better or worse, but they also prove that those who came before us were dedicated to the idea that a thing worth doing is worth doing right.

This is the idea that inspired Isaac Morton, Smithey Ironware's founder, to start his premium line of cast iron cookware from Charleston, South Carolina. And it explains why buying a Smithey is an investment in quality, craftsmanship, utility and appreciation for hard work.

In 2006, before Smithey Ironware was officially in business, Morton worked for a Charleston-based real estate development and investment company. But while his day job, known for its transactional nature, dealt with properties in which people live, he was spending free time in his backyard woodshed dealing with properties in which people once cooked, restoring — or as he's called it, "bird-dogging" and "tinkering with" — vintage ironware from the 19th century.
Morton wasn't originally thinking about restoring cast iron as a business opportunity; he simply loved the work of taking something from the past and bringing it back to glory with his own hands. But after receiving a 120-year-old Griswold cast iron skillet as a gift from his sister-in-law, Morton's interest in the exalted cookware began to warm up.


Before then, he'd assumed that cast iron skillets were mostly the same. They had significant weight and thickness, tilted walls, side spouts and a rough cooking surface, which retained heat well but was not as ideal for searing meats and fish as non-stick pans.

He'd also been accustomed to cast iron skillets demanding an intensive, or at least inconvenient, cleaning process. But after comparing those preconceived notions with the Griswold and its proof of earlier generations' dedication to fine craftsmanship, he became hooked on the undeniable value of the throwback, higher quality version of the classic cooking device.
"I found myself reading collectors' books," he told Charleston magazine in 2016. "I was obsessed. I'd search for rusty, vintage pieces on eBay and at flea markets, restore them in my backyard, and send them to friends and family."

It wasn't long before Morton's skills progressed to the point that starting his own line of high-quality cast iron cookware seemed like a reasonable proposition. The companies who'd become famous for making those classic skillets had been out of business for more than half a century before Smithey officially launched in 2015. He also started noticing that online prices for collectors' editions of cast iron were beginning to pick up and realized there was a viable market for selling his creations.


Applying his inner maker's spirit, he began to form the design aesthetic that now constitutes Smithey's unmistakable look and utility. Morton put thought into how thick his cookware would be (Smithey pans are two-tenths of an inch) after originally trying lighter and thinner models. "In order for cast iron to sear with authority it has to be a certain thickness, otherwise you're sort of cooking on a glorified piece of steel," Morton shared on The Southern Fork podcast. "You get to a point where it's just heavy – it can get way too heavy."

The skillet's signature three-holed pan front came about because Morton saw a similar design on a 1800's-era WagnerWare cast iron pan, and thought it looked "cool." He decided to incorporate it into the Smithey prototype's panhandle, then switched it to the helper handle on the opposite side as a hanging option and to give cooks additional weight support when pouring something off the surface or cleaning it.

The basic process of creating the skillet begins at a small Indiana foundry, where pans that resemble mainstream cast iron skillets are made, then shipped to Charleston, arriving in a much grainier format than you'll see in the finished product. At Morton's shop, thick, heavy burrs on the metal surface are milled repeatedly before a grinding and polishing of the surface is done by hand. Following this, skillets are tumbled in a tub of rocks to achieve smoothness before they are seasoned with a thin layer of oil, packaged and shipped.
While Smithey is not the only player in this field, the fact that Morton still creates these skillets and pans with his own hands, whether you choose the satin-smooth 10-inch No. 10 or the slightly wider No. 12, makes the brand much more than just another creator of castaway cast iron for your kitchen. Sure, it's a time- and labor-intensive undertaking for him but those efforts produce a product that is simple to use, clean and keep on your stovetop whether warming up for a home-cooked meal or to admire in the meantime. You'll understand better when you're preparing a sunny side egg, a salmon filet or whatever your favorite dish to prepare cast-iron-style happens to be at the moment, and realize that there is indeed a difference.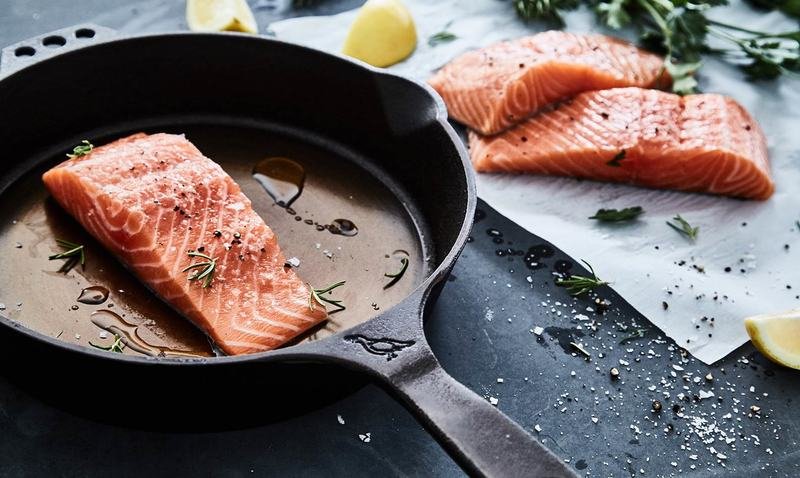 The name "Smithey" comes from an old term for a blacksmith or place where blacksmiths create their works, in this case stylized with an "e." As for the bird, as a dedicated fan of exploring the great outdoors, Morton spent years surfing and hunting in Northern California before moving back to Charleston. The California quail on the logo reminds him of the spirit of his back-to-nature aspirations, plus the taste of the game bird is one of his favorite foods, especially when prepared in a Smithey skillet with salt, pepper, butter and thyme.

For a man to whom the transactional nature of buying and selling real estate properties wasn't what he wanted, Morton clearly sees his works as treasured property, whose value, at least when measured in sentiment, will only appreciate over time. And while restoring cast iron led him to Smithey, his products are at the forefront of a culinary-industry-wide push to restore the prestige of the original American-made cast iron pan.