Standing Rib Roast with Horseradish Cream
Here's the secret for a perfect Christmas roast
There are plenty of how-tos and hack-filled recipes out there to make a foolproof standing rib roast each holiday season, but we've cut those long, explanation-filled stories and must-have equipment lists down to one simple secret.

It's really all about your oven temperature.
To get that perfect medium-rare temperature from edge to edge, you'll first need to bring your standing rib roast up to room temperature. Three hours on the counter will do it, and in this time, you can get your sides prepped and your drinks poured. Season the heck out of that Christmas roast and then crank the oven up almost as high as it goes: 450 degrees. Get your timer ready.

Pop that baby in the oven on its roasting pan and let it cook for just five minutes per pound. Be exact here; if your roast is 4 1/4 pounds, cook it for 21 minutes and 15 seconds. As soon as that timer beeps, immdiately turn off the oven and leave the roast in the oven (Don't open the door!) for exactly two more hours. Again, the exact timing is important here, so make sure to set a timer and pay attention. (You're only allowed one glass of wine while you finish the roast.)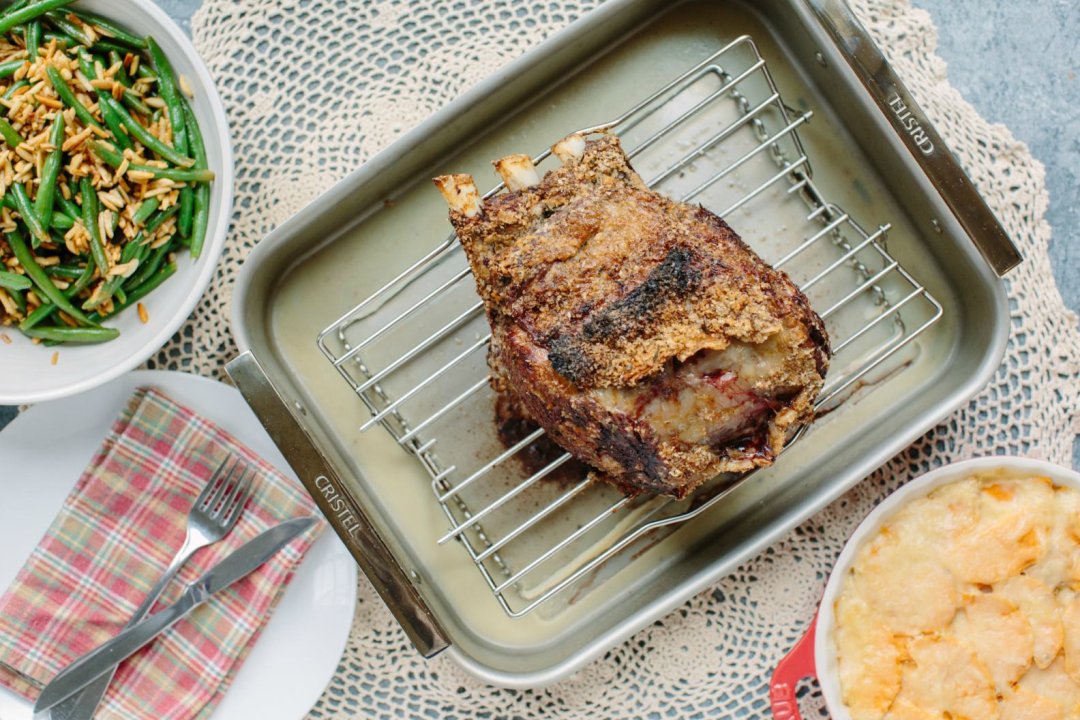 While this two hours passes, mash your potatoes and saute your green beans. You will, by the way, need to make your sides on the stove-top — and yes, this is the one disadvantage of this cooking method — because, remember, you must not disturb the roast.

After that second timer goes off, pull the roast out of the oven and let it rest — for just 10 minutes. Yep, you read that right; it only needs 10 minutes of resting time. Why? Because the roast has finished cooking low and slow, its juices will have already re-distributed amongst the meat — it basically just rested in the oven. It'll carve super easy, we promise, and you won't end up with a cutting board covered in precious juice.

Pull out your favorite carving set, slice up the roast, and get ready to impress your family. You just won Christmas dinner.
---
Standing Rib Roast with Horseradish Cream
Serves: 8 to 10
Hands-on time: 30 minutes
Total time: 5 1/2 hours

Ingredients
Horseradish Cream
3/4 cup sour cream
1/3 cup prepared horseradish
1/4 cup mayonnaise
Juice of 1/2 lemon
Kosher salt and freshly ground black pepper
Rib Roast
1 (6-pound) bone-in standing rib roast
1/4 cup kosher salt
1 tablespoon freshly ground black pepper
3 sprigs rosemary, stripped from stems and chopped

Instructions
To make the horseradish cream: In a medium bowl, whisk together sour cream, horseradish, mayonnaise, lemon juice and season with salt and pepper until combined. Refrigerate horseradish cream until ready to serve.

To make the roast: Three hours before cooking, take the roast out of the refrigerator, pat dry with paper towels and let sit until it comes to room temperature, about 3 hours.

When ready to roast, heat the oven to 450 degrees.

In a small bowl, whisk together salt, pepper and rosemary. Season the entire roast with the salt mixture.

Place roast fat side-up in the rack of a roasting pan bake for 5 minutes per pound (see note). Once the timer chimes, turn off the oven but don't open the door. Let the roast continue to cook in the cooling oven for 2 hours.

Transfer the roast to a carving board and let rest for 10 minutes before carving and serving with the horseradish cream.