Fry up something delicious with these 3 fritter and hushpuppy recipes
Fritters and hushpuppies are the ultimate Southern comfort food. Gooey, crunchy and deep-fried — what could be better to snack on when the temperature drops? Bonus: All of our recipes come with a unique dipping sauce to complete these perfectly indulgent treats.

Try out some of our favorite fritter and hushpuppy recipes for your next gathering. 
Hoppin' John Rice Fritters with Collard Green Pesto
The hoppin' John risotto made within this recipe is delicious enough on its own — rolling it up into balls and frying it makes it truly unforgettable. Serve these fritters with our collard green pesto as part of a Southern-inspired New Year's Eve spread for a twist on the good luck tradition. 
Get the recipe / Get the sauce bowl


Crab Hushpuppies with Avocado Aioli
Served with a bright, no-fuss avocado aoili, these hushpuppies are loaded with just the right amount of crab meat and are sure to impress at any holiday get-together. Even better? The avocado aioli is crazy simple to make — simply pop all of the ingredients in the food processor and blitz it until smooth.
Get the recipe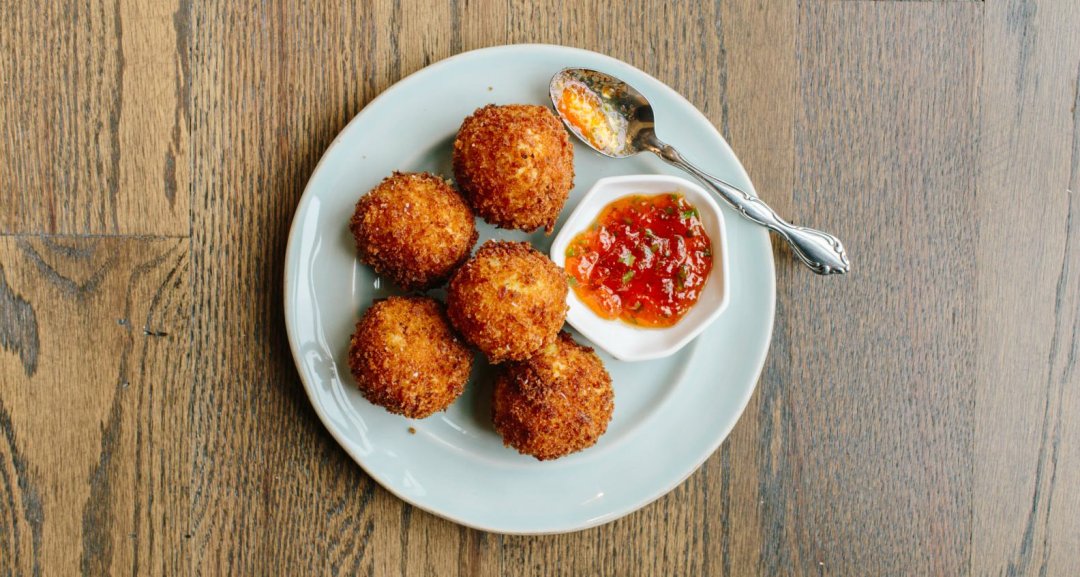 Cheesy Grit Fritters with Hot Pepper Jelly
This recipe is perfect for using left over grits — simply add cheese, roll in breadcrumbs and fry them up for a simple and tasty appetizer. Be warned: Once you find out how easy it is to make this addictive hot pepper jelly, you'll never want to live without it.   
Get the recipe / Get the sauce bowl

Visit the Shoppe at Southern Kitchen for holiday gifts and more

Photo credit (Crab Hushpuppies with Avocado Aoili): Maura Friedman
Photo credit (Cheesy Grit Fritters with Hot Pepper Jelly): Ramona King