Blanc Creatives 11-inch Carbon Steel Sauté Pan
Andrew Zimmern loves to cook with carbon steel pans from Blanc Creatives
Andrew Zimmern wants to let you in on a secret — he loves cooking with the hand forged carbon steel pans from Blanc Creatives.  And here at Southern Kitchen we love them too. Unlike traditional cast-iron, the high-quality carbon steel pans have a unique thickness that makes them lighter than a traditional cast-iron pan and perfect for sautéing and high heat searing. 
In 2009 Corry Blanc, a native Georgian, founded Blanc Creatives in Charlottesville, Virginia. Throughout the South, the carbon steel pans from Blanc Creatives are known as the "modern-day" cousin of the traditional cast iron. 

"Chefs find it to be somewhat lighter than cast iron, with a smoother cooking surface but a similar ability to take high heat. Existing somewhere between cast iron and stainless steel on the oven/stovetop spectrum, it's got the best of both worlds," Southern Kitchen associate editor Mike Jordan explained. 

The blacksmiths at Blanc Creatives are hands-on throughout the whole process and dedicated to crafting high-quality products.  

"Every pan is pressed and placed in the forge where the BC blacksmiths shape them on anvils. They are hand ground and smoothed, handles are hand riveted and the pans are sand blasted to remove any imperfections that might exist on the surface area of the pan," explained Zimmern on Food & Wine's website.

While the pans are designed with chefs in mind, Blanc Creatives also saw the potential in its pans being used in home kitchens. "We designed a pan that was going to literally stand up and stand out in commercial kitchens. Then we kind of adapted that to the homeowners market," said Business and Marketing Director Keith Freeman. 

With the holidays right around the corner, we think these products from Blanc Creatives will make the perfect gifts. 

Southern Kitchen's Editor-in-Chief Ashley Twist Cole loves the 11-inch Carbon Steel Sauté pan and when she's not cooking with it, it's on display on her stovetop. To her, it's a piece of art. 

If you're searching for the perfect gift for the chef in your life, we recommend splurging on the 13-inch Carbon Steel Roaster. This is one of Southern Kitchen's Online Buyer Josh Conner's favorite products. "Since carbon steel offers comparable performance to cast iron, this large roaster is perfect for searing and roasting any chunk of beast," Conner said.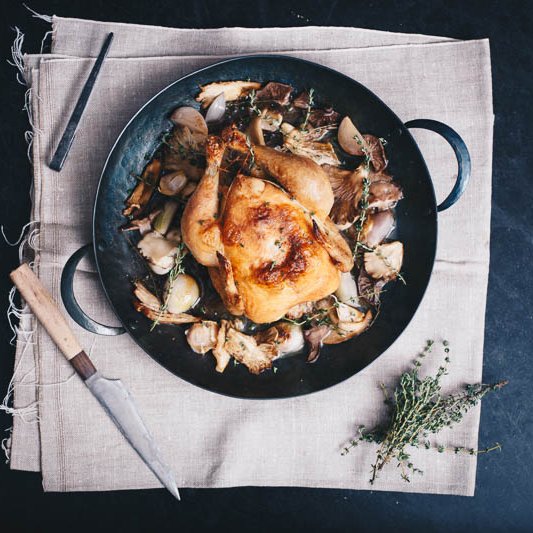 And don't worry, we won't tell if you decide to treat yourself this Christmas and buy one of Blanc Creatives carbon steel pans to keep in your own kitchen.

"It's rare to find such a beautiful combination of artfulness and utility in a cooking pan. They have all the appeal of a priceless antique that was in your great-grand mother's kitchen, but ring true visually, echoing the modern crafting movement," Zimmern said.

Visit the Shoppe at Southern Kitchen for holiday gifts and more